Best viewed on my computer with my monitor ;-)
No matter where I take my guests, it seems they like my kitchen best.
Pennsylvania Dutch Saying

To break out of someone else's frames, click here:
Mawood's Kitchen
---
NOTE:
~~~Tripod has messed up my web pages again. I will fix a few at a time when I can.~~~
---
Click on TABS for more recipes
Check my RECIPE BOX for super quick recipes!

©1998 Albert F. Wood
Designed using AutoCAD Ver 12
Try some mouth watering FRUIT RECIPES!

Heat getting to you?
Try some refreshing FRUIT COOLERS!

Try some of my BEAT THE CLOCK RECIPES!
Tasty recipes that are ready to eat in 60 minutes or less!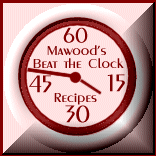 ---
---
Mawood's Kitchen is a featured
"Food and Cooking Site of the Week" for December 1, 2000!
Thank you Rexanne, I am thrilled! ;-)

---

All of Mawood's logos/buttons/gifs on this page were created by
Mawood
---
Index of Mawood's Pages
~Mawood's Getaway~ ~Tyler's Page~
~Mawood's Animated Little Town~ ~Why Alabama?~